Jam Sessions
The latest in the long line of great Fergusons Downtown events.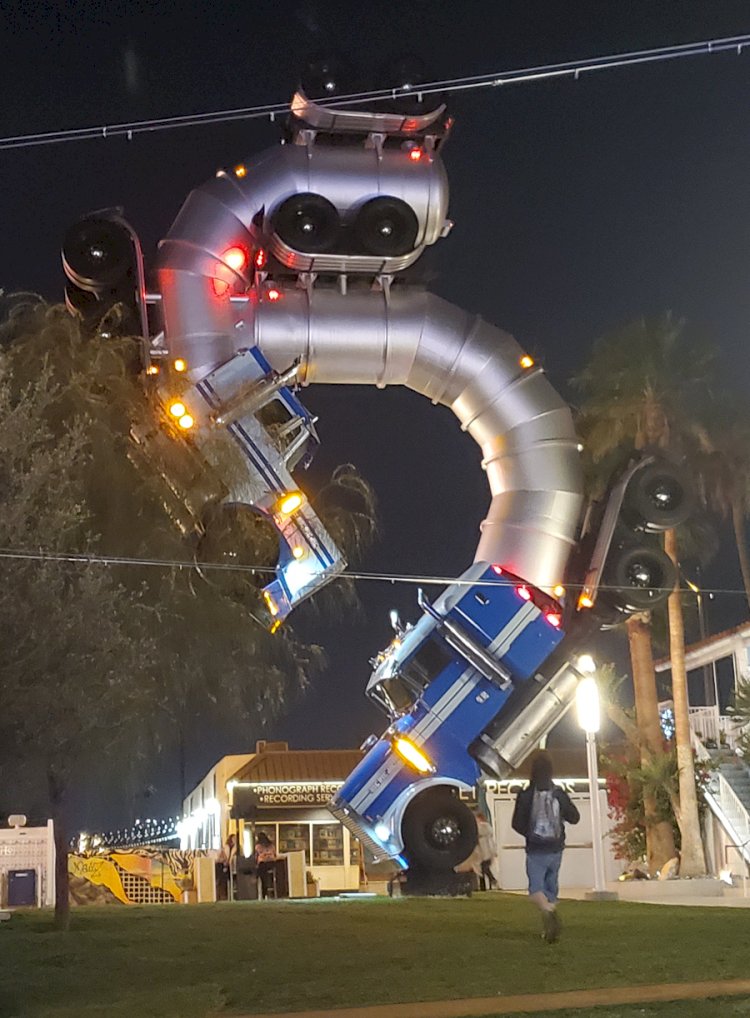 The famous Fergusons Big Rig Jig
Fergusons Downtown has done a remarkable job of revitalizing a once less desirable part of Downtown Las Vegas, specifically the Fremont East section. Once known as the Franklin Motel in the 1940s and changing to Fergusons in the 1960s, the once-motel underwent a massive remake t
oward the end of the last decade to transform it into a creative commune.
Their two flagship events, Market In The Alley and Pour In The Alley have truly stamped Fergusons as a legitimate culture entertainment force in the city. But there is a longer running event that they have had that has, somehow, flown under the radar. Jam Sessions is an event held every second Friday of the month, now on at the Yard at Fergusons, from 8PM-11PM.
This unique event, which was the idea of Eric Camacho (former Sessions leader and current sound mixer for Sessions) and his friends around four to five years ago, has long been an event that marries the community and music in the most distinctive way.
Currently under the watchful eyes of Ava Zech, who works in Fergusons marketing department and was the most recent curator of Jam Sessions, and Magik, who recently has taken over Jam Sessions along with a team of many individuals, whose passion for community growth has sparked the growth, this event has established a foothold within the emerging Downtown Vegas scene.
How it works is: there is a pot and when you come in, you sign up and write down what instrument you play on a piece of paper. Then at random, the event's MC takes out a piece of paper, and either adds an instrumentalist or lead singer to form a band. So a violinist, a guitarist, a drummer and a sax player might be chosen and they will, jam. Pardon the corny.
"It (Jam Sessions) came together as a collaborative night for musicians to make this makeshift band and have fun for the evening." said Zech.
As time as gone on and locations and leaders have changed, the essence of Jam Sessions has not.
"I have only been here for a couple of months", said Magik. "But from being around over the years and seeing how this has stayed the same regardless of direction."
While Jam Sessions has technically been around for five years, it was known about more through word-of-mouth than actual advertising and true promotion. Fergusons wanted to keep it "underground", if you will. But because good things cannot be kept under wraps for long, that word-of-mouth method that brought people around was now the same method for this small event becoming bigger than was originally planned.
"The community has received it very well", said Magik. "The mark of the success is seeing different people each time so clearly the word is spreading."
While local flavor is what makes Jam Sessions great, the heads of would still love to see a fantasy mainstream artist come through and grace the stage such as "The Killers because they are from Las Vegas" (Zech), "Chance The Rapper because I've been jamming to him lately" (Magik) and "Flying Lotus because of his unique brand of EDM" (Camacho).
As we enter a new decade, the vision and goal for Jam Sessions is clear:
"Keeping that authentic family vibe and creating an identity for Vegas culture that is known outside of the city as much as in it." said Magik.
There are two restaurants (Hatsumi and La Monja) if you are hungry or thirsty as well as many small business shops inside Fergusons to peruse and purchase from as you are enjoying Jam Sessions.
This has contributed to the positive image of Downtown Las Vegas by having a welcoming, all-inclusive event; families are welcome, it is a great date night option, teenagers can come and enjoy themselves and local musicians are encouraged to showcase their talent. This event is definitely a must-visit for natives, transplants or visitors to come through and experience!
For updates and more information on Jam Sessions or Fergusons, follow them on Instagram: @jamsessiondowntown & @fergusonsdowntown
*photos and video by Andre Brown