30th anniversary of the 1990 UNLV Runnin' Rebels Title Team
Let's take a trip back to 1990.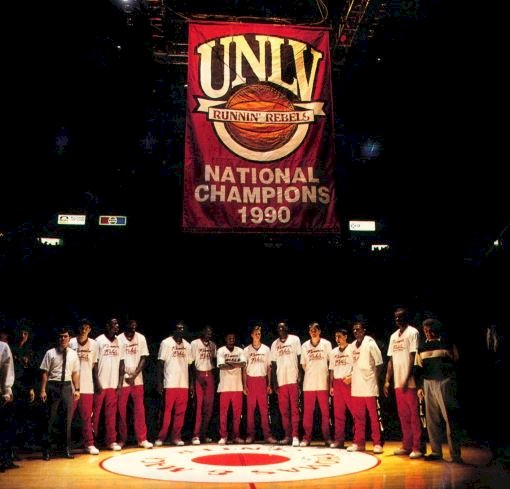 UNLV raising the banner/photo from Pinterest
Before last decade which saw the debut of the Golden Knights, the agreement to move the Raiders to Las Vegas and the arrival of the Lights, Aviators and Aces, sports in Las Vegas was sparse at best. There had been teams in other small, pro-am leagues but they came and went without establishing an identity.
Then in 1973, the UNLV basketball program hired Jerry Tarkanian as their head basketball coach. Wildly successful at his last stop (Long Beach State) but still an unknown commodity, nationally. UNLV had Final Four teams in 1977 and 1987 but just could not get over the hump.
The 1989-1990 team would change all of that in a major way. Following the transfer of NJCAA (National Junior College Athletic Association) Player of the Year, Larry Johnson and returning nine rotation players, the Runnin' Rebels went 35-5 and won the National Championship in dominant fashion; to this day still holds the record for margin of victory in the NCAA men's basketball national title game.
April 2, 2020 will commemorate the 30 year anniversary of that legendary team. Yes, 30 years. Feel free to feel old. I spoke with Moses Scurry, a reserve big man on that team and Evric Gray, a reserve redshirt freshman guard to take me back and speak about that iconic team.
Brown: So what made you come to play at UNLV for Coach Tark(anian)?
Scurry: Their style of play was a big factor. After leaving junior college, I took a visit to UNLV to see them play and the way they got up and down the floor was something that I wanted to be a part of.
Gray: My brother played football at UNLV with Randall Cunningham and Ickey Woods so I was always around the program, in a sense. I had always been a fan due to my brother and I was there for the opening of Thomas & Mack as well.
Brown: Your team was the first college basketball team to have "rock star status", so what was the atmosphere like around campus and the city as you guys got off to your great start?
Scurry: It was just love in the air, man. It's truly hard to explain if you weren't here but everywhere we went, people were backing us and it was amazing.
Gray: The thing about that team was, it was guys from all over the country (DC, New York, Texas, California) that came together and we all got along for the most part. But when it came down to it, we handled our business.
Brown: Now the team's final record was 35-5 but three of those losses came with some of your best players not playing, how did the team react?
Scurry: The only way it affected us was that we played harder. We felt like we had a target on our back and it just brought us closer together as a team. We were young men trying to make something of ourselves and here they (the NCAA) are, trying to take that away from us.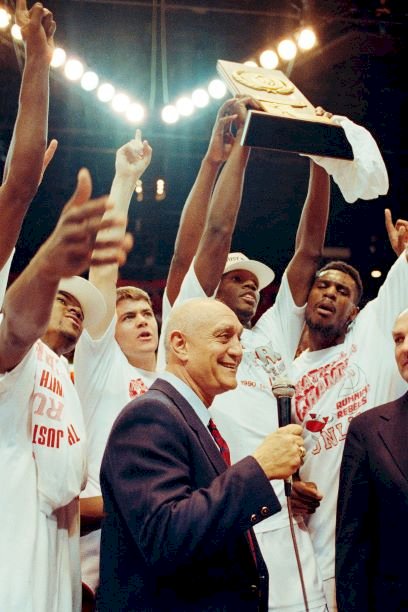 Brown: Is there a specific point or happening during the '89-'90 season where you guys thought, "This is our year"?
Scurry: Well we already knew we were a good team from the previous season but once we got Larry (Johnson) in the fold, we knew we were going to be a problem.
Gray: I would say when they (the NCAA) pulled Chris Jeter & Stacey (Augmon) off the plane as we were getting ready to play LSU (Louisiana State University), a game which we lost. But after that game, we went on a 10-game winning streak and that seemed to turn the season around and we had the "us against the world" mentality.
Brown: Speaking of Larry Johnson, what was it like playing with him and Stacey Augmon and Greg Anthony and what were they like as leaders?
Scurry: The whole team were empowered as leaders on the team. No one just waited for them to say something or speak up. They followed us as much as we followed them and it was all unity, man.
Gray: Greg was our leader, he was the politician. We all knew Larry was our best player, we knew where our bread was buttered. Stacey was the quiet one, still is to this today, very private and that's just him.
Brown: What was it like to play for Coach Tark?
Scurry: He took me out of a bad situation and put me in a great situation. He recruited players because he wanted to help us and we wanted to play so hard. He's a great, great man.
Gray: As a current coach myself, I try to impart the same wisdom and values that Tark did. He gave guys second chances and brought the best out of us. Also, he was a great communicator and I owe my whole career to him.
Brown: Do you think the '89-'90 title team doesn't get as much respect as they should in comparison to the '90-'91 team that had a better record?
Scurry: I don't think we got our proper due. I mean, I thought they (the '91 team) would run through the NCAA Tournament because they were so talented but I didn't feel that we received the same acclaim as them.
Gray: I think that we do. That '90 team was very good and that's the first time I've heard about that team not getting respect. I think it was the media that hyped up the '91 team plus Greg, Larry and Stacey coming back for their senior seasons really built that team up.
Brown: With that win, that was the first title in the city. When you guys got back from Denver and had that parade around the city, what did that mean to you then and now?
Scurry: That'll forever have a place in my heart, man. I get asked that often around the city and somehow, I still haven't absorbed it. The feeling doesn't truly hit until I hear about that moment from others and I don't know why.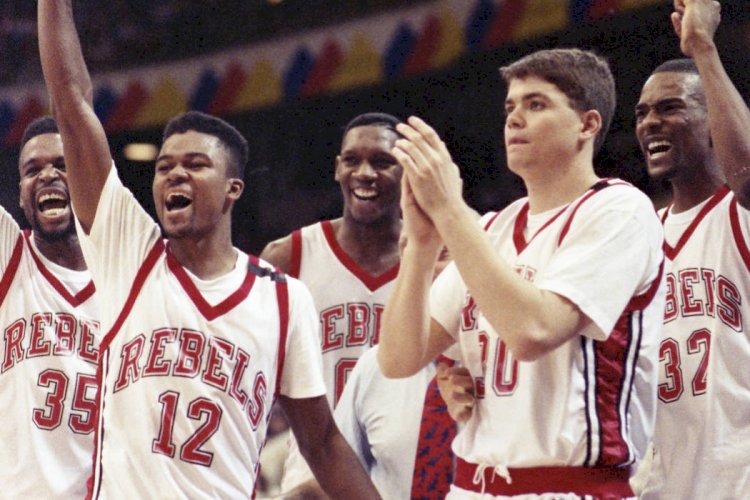 Brown: Do you think your '90 title team sparked a love for sports in this city that materialized in the growth that we're now seeing?
Scurry: I think we had a major part of that. You look at the run the Golden Knights had and if they had won it all, our team might have been brought back up with them as the only championship winners here. The campus grew due to the success of the basketball team over the years so I feel we had a huge impact.
Gray: Well when we were in school, we were the only show in town. And now, times have changed. I think we'd still be the toast of the town if we were playing in today's times but with all the sports coming, change was inevitable.
A big thank you to Moses Scurry and Evric Gray for their participation in this interview!