Driving Without Limits!
Driving race cars, go-karts, or ATV's you will find a track that is fun for you.

Exotic Racing stable of cars/ courtesy of exoticracing.com
The thrill of driving a race car or an ATV thrill you? Next time you are in Vegas or if you live here you should check out these places for a good time. You will be sure to find a track that appeals to your driving style!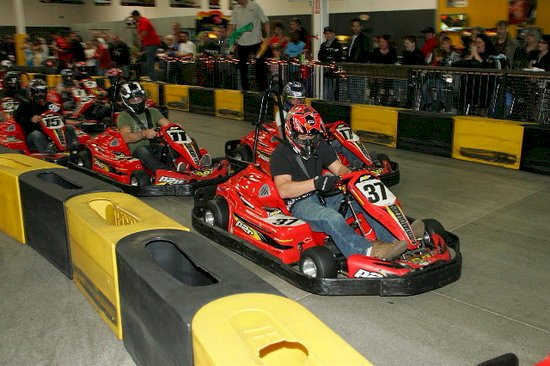 Pole Position Raceway
Go-kart Racing in Las Vegas is an indoor event! In addition to the go-karts, there is virtual reality where you can shoot zombies. Now who wouldn't want to do that for October of 2020, I know I could shoot a zombie or two! The address is 4175 South Arville - located on the Strip across the street from the Palms. The tracks are all indoor and climate-controlled. They are open from 11:00 am to 11:00 pm Sunday through Thursdays and 11:00 am until Midnight on Friday and Saturday. Youth Race tickets for those who are 48" or taller, top speed is 25 mph, are $19 for members and $22 for non-members. Adult Race tickets for those who are 56" or taller, top speed is 45 mph, are $20 for members and $27 for non-members. Temporary race licenses are available for $6 and are good for 1 week from the date of issue. You can either walk in and race or reserve your time slot. It would be best to call them before going to make sure the hours and rates are the same, (702) 227-7223.


ATV Hidden Valley sounds more like your cup of tea. This company gives a tour of the Southern Nevada desert as you follow guides on a trial-riding adventure. You can spend about two and a half hours and go about a hundred miles while being outside on your own ATV as you travel the trails through the Mojave Desert and McCullough Mountain Range. American Adventure Tours offers free shuttles from several of the casinos on the strip to their staging area in Jean or you can drive yourself to the staging area. There are several tours available for fun and exploration, as long as those going are 16 years old, with a price range of $189-$999. Book a tour and have a blast! Due to COVID-19 please call (702) 876-4000 before you go to make sure you will be able to get their shuttle or to get directions to their staging location in Jean.


Driving an Exotic Racing car is more up your alley? A sleek Ferrari or a Lamborghini or a Porsche, doesn't matter which racing car is your favorite because you get to pick the car you drive on the track. You can drive five laps around a racetrack with no speed limits! Exotics Racing has both race cars as well as go-karts for you to race. The race cars have a variety of price ranges from $199-449 for 5 Laps. Right now, the Fall Special is 40% off so I would be sure to book a reservation as soon as possible! All of the race tracks are outdoors which adds to the excitement. Hours have changed to COVID. They are currently operating 5 days a week, Fridays - Tuesdays, closed Wednesdays and Thursdays during COVID-19 regulations. Operating hours for Exotics Racing is 9:30am-3:00pm.
Go-kart races at Exotic Racing is also available and it's called Vegas Superkarts. Both are operated out of the Las Vegas Motor Speedway located at 7065 Speedway Blvd. The price range for Adults (ages 14 or older with a height of 55" or taller) are $35 for one race to $90 for three races. The price range for Juniors (ages 10 or older with a height of 50" or taller) are $30 for one race up to $75 for three races. Operating hours for Vegas Superkarts is 11:00am-5:00pm.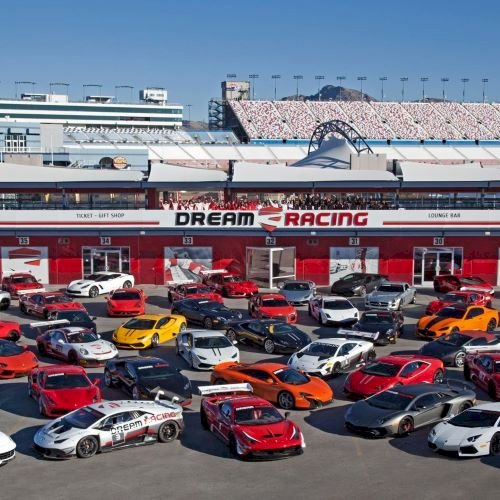 Dream Racing Driving Experience is another racetrack location in Las Vegas where you can choose to drive a sleek Ferrari, Lamborghini, or a Porsche. You will get one on one coaching on how to maximize your driving experience on a sanctioned racetrack in Vegas. Dream Racing is operated out of the Las Vegas Motor Speedway which is located at 7000 Las Vegas Blvd. They are open Monday through Friday from 7:00 am until 5:30 pm, Saturday from 7:00 am until 5:00 pm, and Sunday from 7:30 am until 4:30 pm. The race track has a price range for racing from $179 for 5 laps up to $959 for 10 laps depending on the car you select to race. You can reach them at (702) 605-3000 for reservations or any questions you may have about racing.
* Dream Racing picture courtesy of lasvegascalendars.com and Pole Position Raceway picture courtesy of polepositionraceway.com