Fortune smiles on Dale Earnhardt Jr., as Fan recovers lost trophy!
NASCAR's most loved son and the driver turned NBC Sports broadcaster, Dale Earnhardt Jr., on January 6, 2021, posted a picture of the 1999 Busch Series Most Popular Driver Award.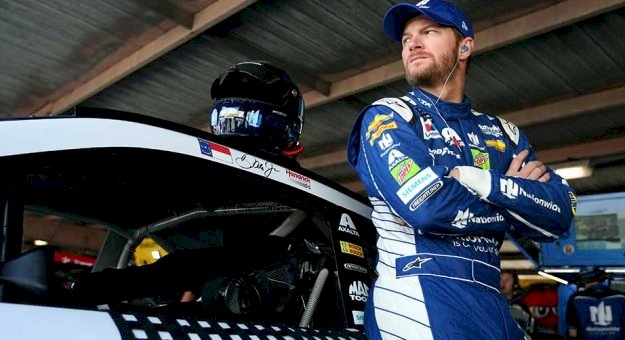 Sean Gardner | Getty Images
Thou shall receive what is thine!
Here is a classic example of what you seek is also seeking you!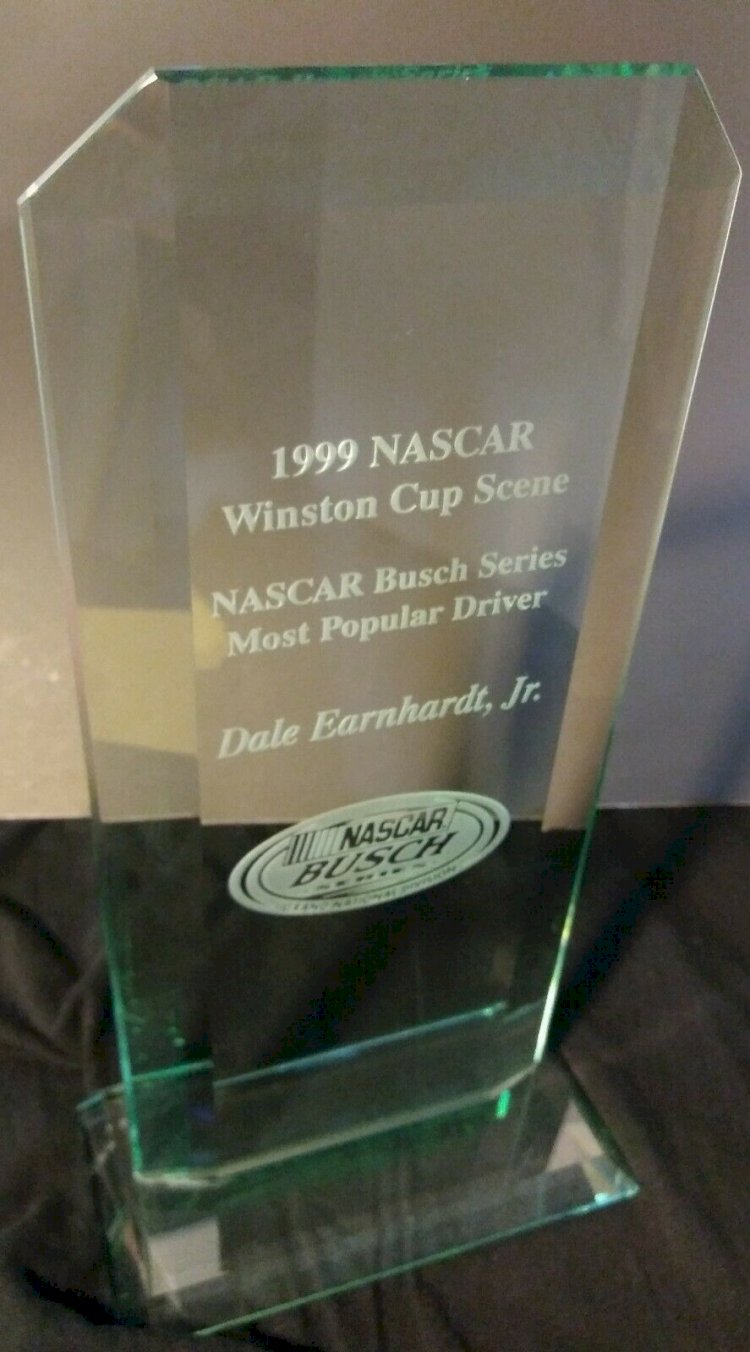 NASCAR's most loved son and the driver turned NBC Sports broadcaster, Dale Earnhardt Jr., on January 6, 2021, posted to his story a picture of the 1999 Busch Series Most Popular Driver Award.

Dale Earnhardt Jr.'s post read,
"Check this out! The backstory is crazy. NASCAR Busch Series Most Popular Driver Award never made it home from the banquet. Now it's being auctioned on eBay"
Seller says "It was a crew member trophy but it was mine, for a brief moment"
"Nice to see it's been looked after for two decades"
A brief history of the 1999 Busch series' press release:
Between 1996 and 1997, Earnhardt Jr. ran nine Busch Series races for Dale Earnhardt, Inc., and Ed Whitaker, respectively. Earnhardt won consecutive NASCAR Busch Series Championships in 1998 and 1999 barely edging Matt Kenseth.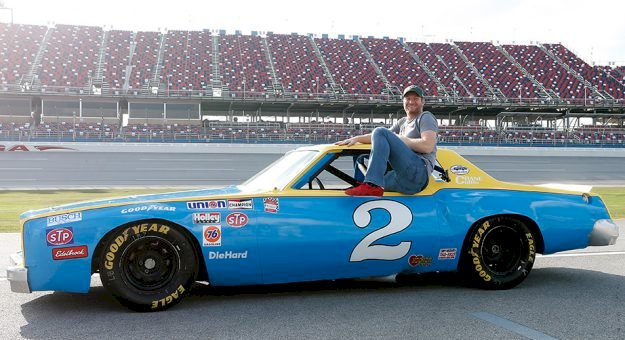 Brian Lawdermilk | Getty Images
In the 1999 season, the race winnings amount of Dale Earnhardt Jr., was nearly $1 million, out of which approximately $700,000 was won merely in point-fund contributions and post-season awards at the 1999 NASCAR Busch Series Grand National Division. In the 1999 NASCAR Busch Series, Dale Earnhardt Jr. won the season-points championship for the second year in a row.
The overall winnings of Dale Earnhardt Jr. for the year 1999 got him close to Randy LaJoie, the 1996 and 1997 champion. In the 1999 point championship, Randy LaJoie scored above the $3 million mark in career winnings and finished at the 10th position.
Also, in the 1999 NASCAR Busch Series, Dale Earnhardt Jr.'s team earned more engine builder points than any other squad. Earnhardt Jr., the driver of the No. 3 ACDelco Chevrolet, is only the fourth driver in NASCAR Busch Series history to win back-to-back titles.
Additionally, Earnhardt Jr. was named the NASCAR Winston Cup Scene Most Popular Driver for the NASCAR Busch Series and claimed several other awards including the Gatorade Front Runner Award, Goody's Extra Strength Award, MCI WorldCom Fast Pace Award, and awards presented by Goodyear Tires and 76 Race Gasoline.
Both the runner-up and third-place finisher, Jeff Green and Matt Kenseth, respectively, tallied overall winnings above the $1 million mark. Green, who also won the Anheuser-Busch Bud Pole Award, finished with $1,093,242, while Kenseth posted $1,149,792 in season winnings.
"I think we all went in knowing that we had a shot at winning the championship, but we came up a little short," said Green. "I think 1999 was the most competitive season in NASCAR Busch Series history, and I know that the year 2000 will be even more competitive and exciting."
NASCAR Busch Series Most Popular Driver Award auctioned on eBay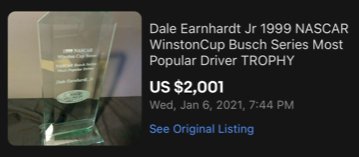 Unlike the popular adage 'Curiosity kills the cat', I would say "NOT always". I was insatiably curious to get the cat out of the bag, and so I contacted the eBay seller, stacnadama2l1, and made him aware of the post to fetch more information from him. By this point, the seller had already been receiving threatening emails from Dale Earnhardt Jr. fans.
Dale Jr. is alive and has amassed not only a tail of awards but also a tremendous fan following throughout his long racing lap. And well, this is evident when you consider the many threats and emails the eBay seller has been receiving.
The eBay seller stacnadama2l1, whose real name is Adam has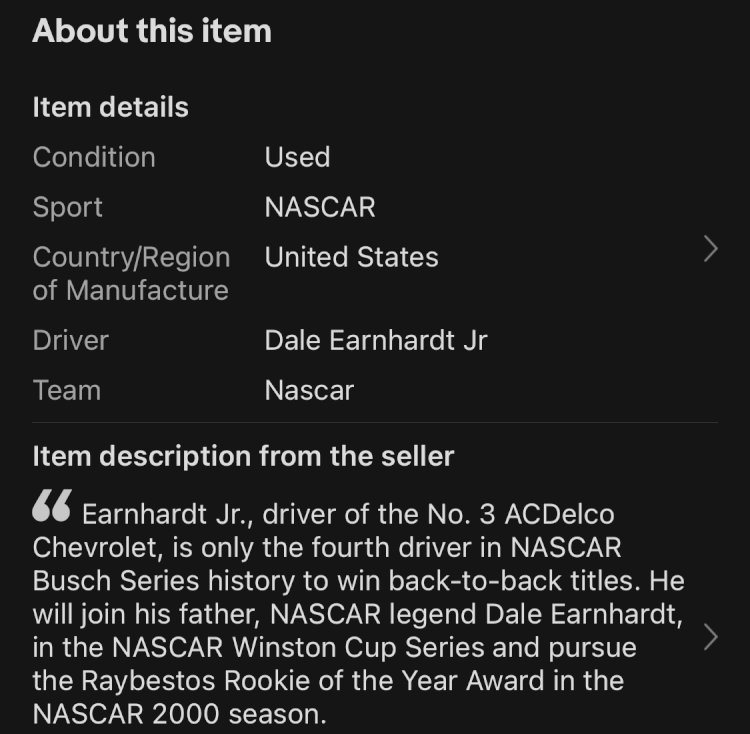 made it clear to me and even disclosed in his ad how the beautiful trophy ended up in his hands.
In early 2000, Adam worked at the venue of the Awards Ceremony where the trophy was awarded to Dale Jr. The day after the awards ceremony, the trophy was found abandoned. Adam turned the trophy to property security, where it was tagged as "Lost and found". Three months later Adam was astounded to find that no one had ever claimed the stunning trophy and it was released to him per company policy.
It never occurred to Adam that the award could belong to Dale Earnhardt Jr. In fact he had it on the market for nearly two years as a crew member trophy.
Practice, hard work, determination, passion, etc. are good enough to earn an award but it needs sheer massive luck to recover a lost award especially after two decades.
Dale Jr. is undeniably lucky to find an ardent and faithful fan like Adam! Adam and I have been corresponding for more than a week now and even though he has since been offered a lot of money he has refused to sell the trophy and sincerely feels that it is imperative the trophy only reaches Dale Jr.
Where it is sweet, you will always find ants luring around! Ever since Dale Jr. posted about the lost and found trophy, Adam has not only been receiving threatening messages but also several offers from people to deliver it to Dale Earnhardt Jr., claiming they are Dale Jr.'s personal friends.
For obvious reasons, Adam is skeptical of those people and asked me to help him to return the trophy to Dale Earnhardt Jr.
I'd like to arrange for Adam to give it to Dale Earnhardt Jr. in person. Adam is a NASCAR fan and he deserves something for doing the right thing.
How did Dale Earnhardt Jr. lose it in the first place?
One would argue that trophy is always associated with proud possession and how can one afford to lose it?
Well, the passionate owners of the trophy aren't driven by trophies or awards but the mere passion to excel. And their body of work speaks more volumes about their achievement than the so-called trophies. Dale Jr. is one of those legends. Having said that doesn't mean that the awards are trivial but it simply means that the awards are badges allowing us to look back with admiration.
With a plethora of trophies in his kitty from wins across his career, Dale Earnhardt Jr. is now unsure about where he placed or shelved a few of those trophies.
During the Q&A session of one of his podcast episodes on the Dale Jr. Download, the stock car racing driver, Earnhardt Jr. was asked what he did with his 15-time Most Popular Driver trophies. The driver explained that all 14 are at JR Motorsports' shop. The other one remaining, he said, is part of an exhibit about him at the NASCAR Hall of Fame. And this is how the award exhibited in the Hall of fame subsequently went to Adam the eBay seller as per the policy of unclaimed award.
So essentially what seems to have been lost, wasn't lost but it was unclaimed and reached Adam - the lucky one to get a feel of the pristine and prestigious award that adorned his abode for two decades.
Is the trophy significant to Dale Earnhardt Jr. for any reason?
Awards are undoubtedly recognition of the sweat and slog and what more significance can be drawn than this!
Dale Earnhardt Jr. has a few trophies from wins throughout his marvellous career.
Last year, Dale Earnhardt Jr. expressed his interest in getting a giant case to shelve all his trophies and keep a track as he had no idea where all he placed the trophies all over his property. He emphasized that he was anxious and concerned about any missing trophy.
This clearly signifies that Dale Jr. is keen on bringing back on track all the misplaced trophies, after all, trophies are earned in the hours that no one is watching and are the affirmation of victorious struggle.
The trophy meant to be kept in the Hall of fame as an exhibit had at least some significance and relevance attached to it, but someone buying the hard-earned trophy from an auction site like eBay, especially when Dale Jr. is alive sounds bizarre and trivial.
Irrefutably the trophy belongs to Dale Jr. and no other rationale of paramount importance could be tied to it.
What will Dale Earnhardt Jr. do with it?
Dale Jr. has cherished the chase hitherto, but now he seems to cherish his trophies too.
Dale Earnhardt Jr. no longer drives full time and has effectively passed the most popular driver mantel to another NASCAR legend's son, Chase Elliott. It could be argued that Dale Earnhardt Jr. is still the most popular personality in all of NASCAR.
Dale Earnhardt Jr. wants to shelve all the awards at one place, all 26 Cup trophies, all the most popular drivers, and all the XFINITY.
According to Dale Earnhardt Jr., he wants to do this to track and figure out if any trophy is missing.
Nevertheless, who wouldn't want to adorn his mantelpiece with all the beauties garnered spanning across enthralling career!
The trophy had its way to get back to its proud owner irrespective of the delay. Dale Jr. is lucky to have the trophy back and Adam, the seller is lucky too to possess the stunning beauty for two decades.
There is no denying that the lost time is never found again but lost trophies could be found!
(Source: LasVegas.Net)