Breathing New Life
Upgraded to eye-popping boutique-style rooms with chic motifs, refurbished bars, restaurants, shops, barber shops and vintage locations... read more about desirable downtown properties.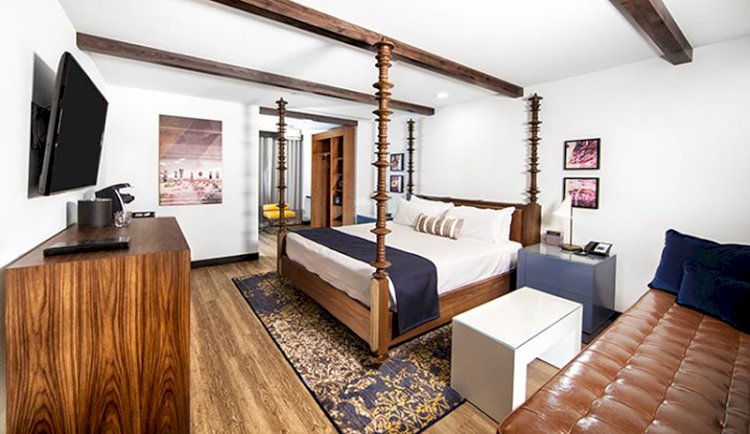 Downtowner Motel & Apartments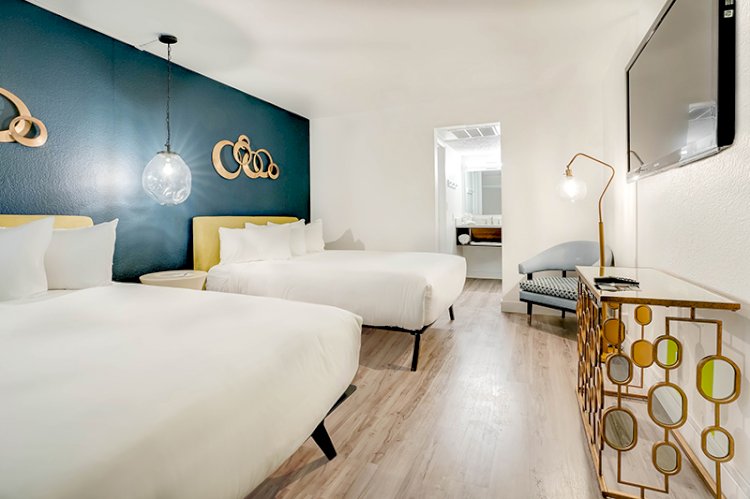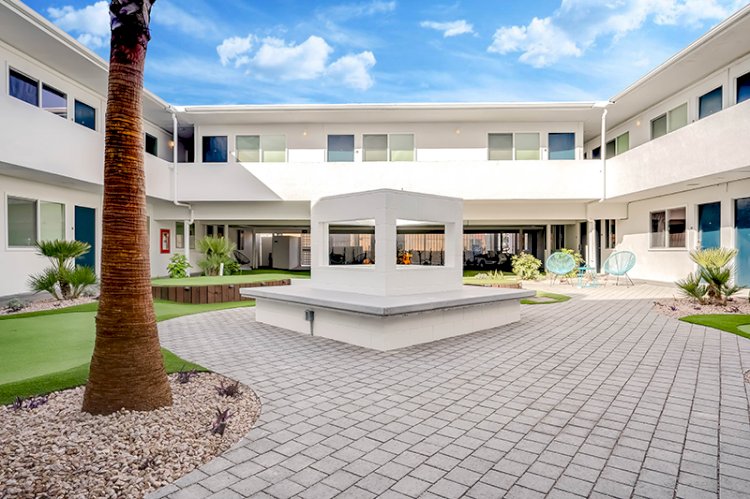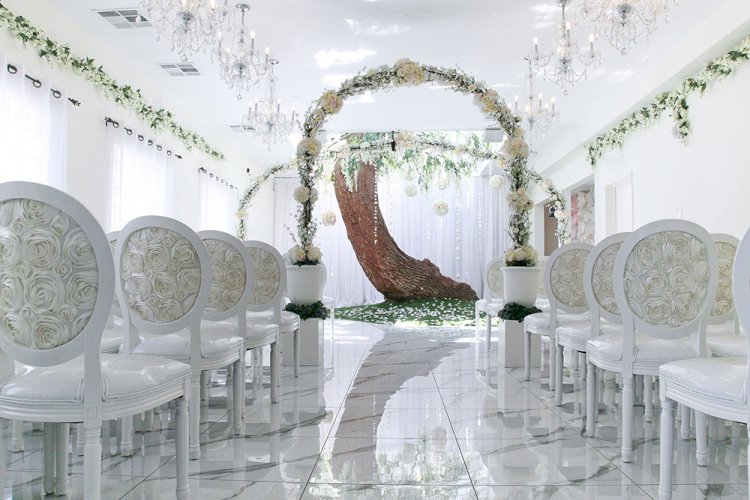 It's easy and natural to be attracted to something shiny and new. No other city knows it better than Las Vegas, which excels at keeping a pulse on trends and staying ahead of the times. But what if something is old like a motel or hotel and part of Las Vegas' history? Some historical properties have found updated retrospect solutions.
Las Vegas officially became a city on May 15, 1905, when land was auctioned in what is now downtown. Visitors today relate downtown to the Fremont Street Experience and emerging Fremont East District. Some folks think when they are visiting the Las Vegas Strip they are downtown and don't realize the actual city of Las Vegas ends or begins, depending on the direction traveling, at Sahara Avenue. From the standpoint of history, it makes sense some of the oldest properties still in existence may be found in the downtown area.

The hotel with the longest history, and one which readily and with pride promotes its ties to the past, is the Golden Gate Hotel & Casino, which was the first hotel in Las Vegas. Located on the corner of Fremont and Main Street, it remains today; but, looking wildly different than when it was called Hotel Nevada in 1906 and charging $1 per day for room and board. Even then it was considered "first class" with its electric lighting, ventilation, and steam heat radiators. After modern updates, the original rooms are still in use.
In 1955, a group of Italian Americans from San Francisco came to town to build and operate the Golden Gate Casino and for nearly 40 years. In 1959, they created the famous shrimp cocktail, which for years was 50-cents and served in a tulip sundae dish. Today, the promotional focal point is the extended outdoor OneBar, added under the Fremont Street Experience canopy, and is the longest bar downtown.
When the landmark property renovated and expanded in 2012 adding brand-new luxury suites, it decidedly kept a welcome vintage-inspired look with Art Deco accents and Swing-era inspired interior and included a display of artifacts in the new lobby. Along with the new casino floor, reimagined façade, and upgrades, a dramatic new entrance modified an alley and space separating the property from its neighbor the former Coin Castle once existed. The Golden Gate Casino is an example of an impressive makeover.
Down the street in the area called Fremont East District since 2007, is the El Cortez with its rich history. It was built in 1941 for $245,000 with a Spanish Ranch theme and became Downtown Las Vegas' first major resort with 59 rooms, which was a tiny number compared to the explosion of mega-resorts on the Strip in the 1990s.
In 1946 there was an expansion, which included a barber shop, nightclub, swimming pool and a four-story wing. Another remodel happened in 1950 with the grand reopening being held in 1952. This was when the neon arrow, marquee, and signature large roof sign, which still exists, were installed. Jackie Gaughan, a prominent Las Vegan pioneer, purchased the hotel in 1963 for $4 Million. Guest Tower II was built in 1980 bringing the overall room count to 297. Keeping the property fresh, the most recent renovations were in 2006 and rooms again in 2018.
In 2009, the El Cortez took over the former Ogden Hotel across the street, changed the name to Cabana Suites and remodeled the entire property with eye-popping stylish suites featuring black and white designs accented by strong neon colors and custom retro furniture. The 64 boutique-style rooms with chic motifs brought the combined room count of the El Cortez and Cabana Suites to 364.
Another interesting vintage property hidden in plain sight between the Strip and Fremont Street. New owners purchased the former unremarkable Aruba 100- room motel at 1215 Las Vegas Blvd. So. in 2016, invested $5 million, and completely revamped it into the charmingly retro-chic classic Thunderbird Boutique Hotel. Although this place has no relation to the former Strip hotel also called the Thunderbird, historic photos in public areas give a nod to the original.
The reimagined resort has rooms with reclaimed wood furnishings and rain showers along with a large social lounge offering bar-top gaming, pool, beer pong and a full bar as well as an outside patio. Special features are the Royal Showroom, which is great for receptions and events, and the Royal Wedding Chapel with two stylized chapels including the emotional-appealing Garden of Love Chapel built around a 100-year-old tree, and the intimate Crystal Wedding Chapel. This resort is a welcome surprise.
The most recent reveal is the Downtowner (pic above), a historic property which originally opened in 1963, and just completed a $2 Million remodel. Around the corner from the El Cortez, the fun reenergized design of this property at 129 N 8th Street unveiled 88 freshly renovated rooms with upgraded bathrooms and a six-hole professional putting course in the socially inviting courtyard. There are fun visual elements like custom art pieces, a vintage Harley Davidson golf cart, and other Instagrammable moments like vibrant interactive wall art, kitschy decorative lawn flamingos, and a central color-changing fire pit.
A real fun element to this newly renovated mid-century modern motel, which used to be apartments and even the sign on the roof still reflects the fact, is the way you check in. The remodel which included adding a 24-hour full bar at the corner with big inviting windows has the bartenders doubling as hotel check-in clerks.
It's exciting to watch the creativity backed by money going into breathing life back into retro properties. Each has been updated by replacing carpets with tile or wooden floors, modernizing bathrooms, and installing space saving flat screen TVs. Even when a room may be small, it is clean and inviting. When old or historic properties are updated, they can be a refreshing alternative for a visit.