Sixty Minute Getaways
More to offer than the glitz of the Strip...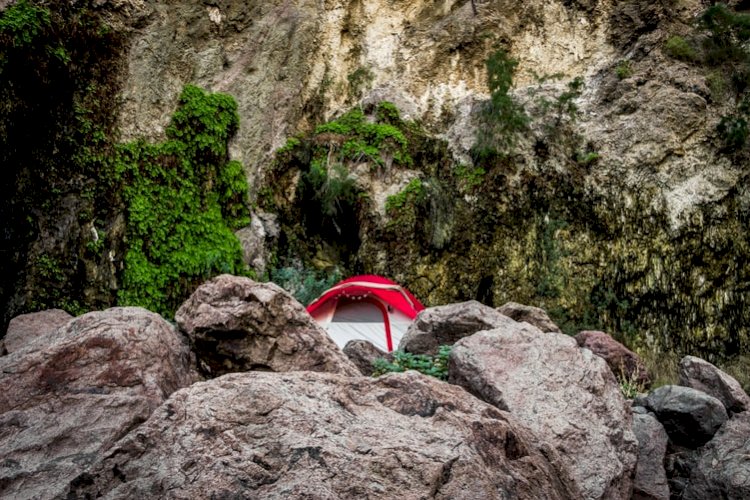 Las Vegas is a town where youcan get anything you want, any time you want, in astounding quantities. However, the one thing you can't get is away from it all . . .or can you? There's more than just desert out there, and we've found ten places (plus two) you can get to in sixty minutes or less of safe highway driving, when Sin City just gets to be too much.
Some of these places, like Lake Mead and Hoover Dam are known to nearly everyone. Others tend to be 'Locals Only' knowledge, like the Valley of Fire. Then there are those hidden gems, the off-the-beatentrack places that even most locals don't know. We've arranged this list to give you a quick taste of each category. Here we go!
Everybody Knows:
Mt. Charleston 45 minutes
A quick getaway from the heat of summer, and the only snow skiing destination within an hour of town in the winter, Mt. Charleston is Las Vegas' alpine playground. There are abundant opportunities for camping, hiking, picnicking and more. Check local guides for seasonal closures.
Red Rock Canyon 20 minutes
Some of the most startlingly beautiful rock formations in the state and some of the best day hikes are to be found here. Best visited in the Spring and late Fall – it's at the same altitude as Vegas. Playtime opportunities include hiking, biking, rock climbing, horseback riding and observing desert plant and animal life.
Lake Mead 30 to 60 minutes
The reservoir that makes Las Vegas possible is also a go-to site for water sports, fishing, boating and just general cooling off during summer. There's even scuba diving, if you like! For something less crowded, try:
Willow Beach 60 minutes.
Tucked into the Black Canyon area of the Colorado river, this spacious recreational area is a favorite among locals. W i t h lots of boating, swimming and camping available, it makes a great weekend getaway. There's also a restaurant, gift shop and convenience store.
Hoover Dam 40 minutes
The pin-up girl of Depression-era public works projects, the massive slab originally called Boulder Dam can still inspire awe. A great trip to break the mid-summer heat, the onehour full tour takes you deep inside the dam, where it's nice and cool. The quicker half hour tour takes you through the power plant. Don't miss the town of Boulder City on your way back into Vegas – it has a quaint village atmosphere and some great restaurants.
Locals Know:
Valley of Fire 50 minutes
Nevada's oldest and largest state park, Valley of Fire boasts unique flora and fauna as well as 3,000-year-old native petroglyphs. The park is perfect for camping, hiking, picnicking or photography, but beware! Temperatures in summer can soar to 120 degrees, so be prepared. The park is open year-round.
Mesquite, NV about 60 minutes
For those who miss the charm and wide-open feel of old Las Vegas, Mesquite offers a trip into the past, but with great modern golf courses. Prices are better in Mesquite, too. The town can be a jumping-off point for trips to Utah's national parks, as well.
For golfers who don't want to go as far, there's: Lake Las Vegas 40 minutes
Las Vegas in miniature, plus a manmade lake and golf course. Lake Las Vegas is positioning itself as a quiet, intimate community with its own flair. Get on the greens while they're still uncrowded.
Hidden Gems:
Sloan Canyon 35 minutes A seriously interesting day trip for the amateur archeologist, Sloan Canyon contains more than 300 petroglyph panels with close to 2,000 unique designs. Look, photograph, but don't touch the art – this is a National Conservation area, and carefully watched. This site is also very hot in summer. There are designated trails throughout the canyons for all levels of hikers.
Eldorado Canyon Mine 50 minutes
The oldest and richest gold mine in Nevada, it operated until 1941. The current owners offer 3 tours daily (call ahead), and rents canoes and kayaks for use on the Colorado river. The mine tour lasts a bit more than one hour. There is a general store as well.
Mojave National Preserve 60 minutes
The nearest entrance Desolate landscapes, deep canyons, Joshua trees and desert wildlife–serious campers and hikers will love this place. Off-roading, hunting and horseback riding are also permitted (fees may apply). The preserve is open year-round but be aware that the summer months are usually unbearably hot. This park is immense – don't get lost. Gold Strike Hot Springs 38 minutes to the trailhead This is one of the most unique destinations on the list, and probably the least known. Unless you're a serious hiker, you might not even know it's there. Situated just south of Hoover Dam, it's an easy hike to the springs (there are even rope trails in steeper sections) and a relaxing swim in the warm water. If your ears are ringing from the sound of slot machines and your eyes are tired from all the glitz and flashing lights, give these getaways a try. Besides, do you really need to see the inside of yet another buffet? Get outside, stretch your legs, and discover that there's more to Nevada than gambling and multi-million-dollar stage shows. There's a lot happening outside of Vegas, too.