Pools With A Twist
What's going on at the pool besides getting wet? Movie night on the strip, downtown Celebrity Chef's and DJ's perform at the biggest rooftop pool party around or just chill and relax in a more tranquil settings on a daybed and soak it up...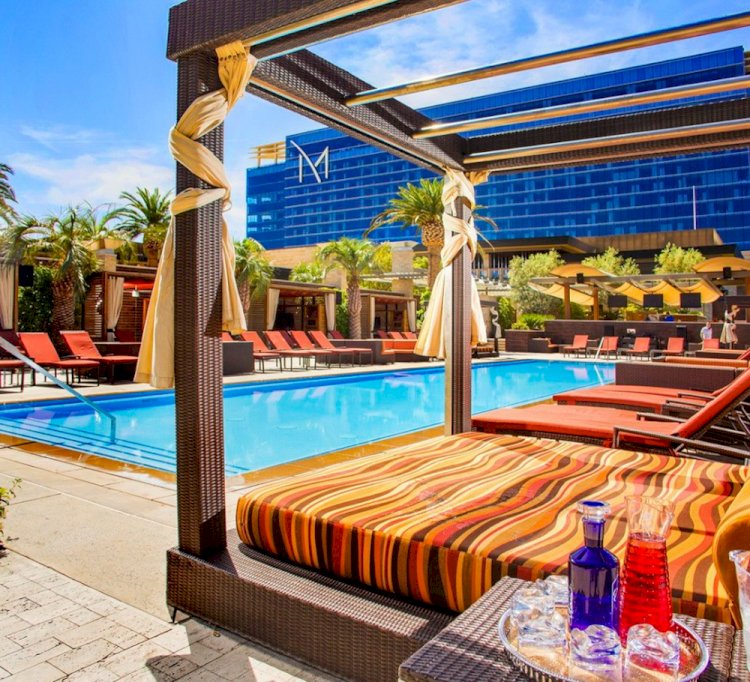 Cosmopolitan Dive–In Movie Night
What if a Las Vegas resort pool transformed into a movie theater? The Boulevard pool located inside the Cosmopolitan has you covered this summer. The Marquee acts as the movie screen showing your favorite films high above the Las Vegas Strip and the bar serves movie–inspired cocktails. Every Monday evening until Labor Day the Cosmopolitan will feature classic films and modern blockbusters, take a dip or lounge pool side and enjoy creative movie snacks under the stars. Doors open at 7 p.m. and the movie begins at 8 p.m. Price is $7 for non-hotel
guests, complimentary for hotel guests, entrance is on level three, via boulevard tower escalators. Daybed and Cabana reservations are available with a food & beverage minimum. Reserve online www.cosmopolitanlasvegas.com or call 702.698.6797.
Movie Schedule
Top Gun | July 1
A Star is Born | July 8
The Breakfast Club | July 15
Aquaman | July 22
Grease | July 29
Avengers: Infinity Wars | August 5
The Notebook | August 12
Jurassic World: Fallen Kingdom | August 19
Ferris Bueller's Day Off | August 26
Jumanji: Welcome to the Jungle | September 2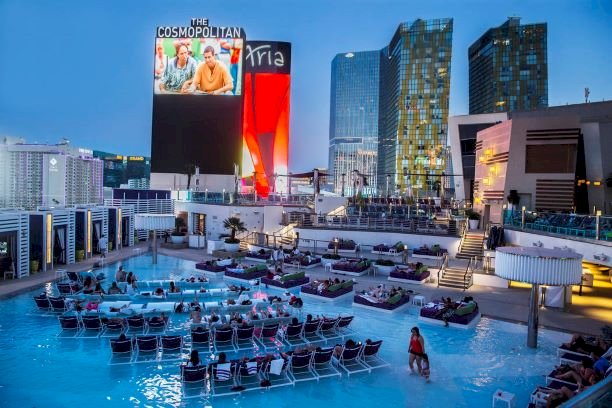 Dive-in movies at the Cosmopolitan Hotel and Casino/via Las Vegas Review Journal
Citrus Grand Pool Deck @ The Downtown Grand Hotel & Casino
Looking for the citrus oasis to beat the heat in Downtown Las Vegas? Look no further than the Citrus Grand Pool Deck; the biggest rooftop pool party around, located on the third floor of the Casino Tower at The Downtown Grand Hotel & Casino. Dance on the rooftop with local DJs performing Friday–Sunday 12 p.m. – 6pm. Citrus also features a daily happy hour from 5 p.m. – 7 p.m. offering ½ price specialty cocktails, draft beer, flatbreads and soft serve ice cream. The food and beverage menu are made with the freshest ingredients, created by Celebrity Chef Scott Commings–winner of Hell's Kitchen Season 12. To stay true to using fresh ingredients, Citrus Grand Pool Deck has planters around the pool deck growing different herbs and spices, used in the drinks as well. Clever!
The citrus pool-party paradise showcases more than 35,000 square feet of entertainment/ special event space, a sparkling infinity pool, cabanas, fire pit, backyard games, grassy seating area complete with umbrellas and outdoor day beds. Casually fun, enjoy a refreshing and relaxing day splashing around or lounging poolside and experience an amplified pool party under the starry skies at night. There is never a cover fee to enjoy the Citrus Pool Deck–unless there is a special event. Anyone is welcome . . . locals, hotel guest, non-hotel guests and visitors ages seven and up. There's no excuse, get down and enjoy!
Hours of Operation: Open daily at 9 a.m.-7 p.m. Kitchen hours: 11 a.m.- 6 p.m. Cabana reservations are available by email at [email protected] or by phone at 702-719-5222.

Daydream- The Pool Club at The M Resort
The DayDream pool club at The M Resort offers the one of the hottest pool parties with live, poolside entertainment. Tucked away from the Strip this DayDream gives a very different vibe than the wild party scene you've come to expect from Las Vegas pool clubs. Attention to detail and little luxury flourishes are a big deal at M Resort, and the pool club is no exception. It has a totally different vibe than most other pool clubs, but that's exactly what they're going for. If you're over the whole rowdy and crazy party scene but enjoy a little bit of energy poolside, you'll find this club to be one of the best.
Hours of Operation
Saturday, Sundays and Holidays: 11 a.m. - 7 p.m.
Cost: Complimentary access for Hotel Guests $20 Admission includes access to M Resort Pool (Family Friendly) and Daydream Pool Club (21 and up). Local ladies receive free admission before noon, local men receive 50% off admission before Noon. Valid local ID is required at checkin to receive offer. Reserve your VIP cabana or daybed online https://www.themresort.com/amenities/m-pool or by calling 702-797-1808. DayDream hosts will reserve exclusive seating for you in a cabana, daybed or stage-side couch set.