A Twist on Turkey
The holidays are the time to come together with family and friends, enjoying each other's company, and to eat lots of delicious food.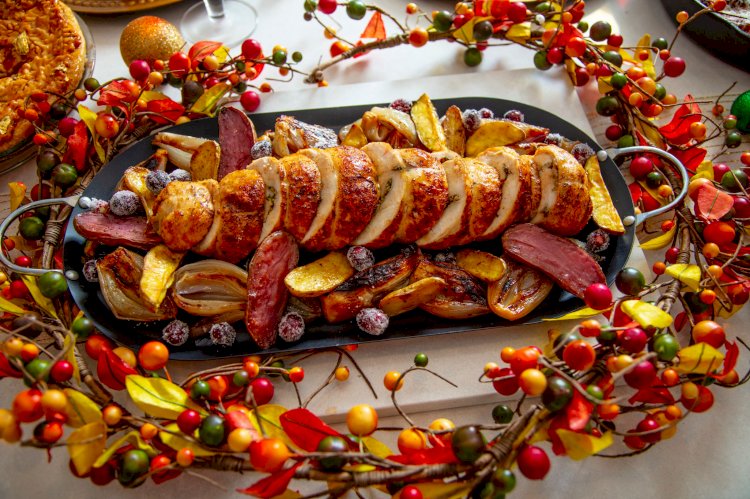 Roast turkey
This holiday season we brought two Las Vegas chefs together to highlight special dishes they eat during the holiday season and share a new twist on classic holiday dishes inspired by their cultures.
Chef D'Andre Balaoing: Balaoing grew up in a military family and was fortunate enough to live in some of the most remote places in the world! By age 9, he lived in over 6 different countries; Japan, Korea and Portugal. After leaving one place for the next, D'Andre pined for the foods he tasted. As a result, his food always aims to conjure memories of nostalgia, making him a multicultural chef.
He blends his Filipino and Asian heritage with American soul food techniques to bring fun, innovative dishes to every table. After graduating from UNLV in 2015, he was cast for season 7 of FOX's "Master Chef" and was named one of America's top home cooks by Gordon Ramsay. Today he works as a pastry chef at the cosmopolitan and has been featured all over the world as a guest chef and consultant. If you have faith in him, he can promise a tasty experience possibility infused with cannabis that you'll never forget.
Elyza Elio The Blazed Chef: Born in San Diego, California and now living in Las Vegas, Nevada, Elyza has been cooking since she was 17. Her Filipino and Italian roots play a huge role in her dishes, but she loves to cook just about everything. She started cooking with cannabis about 5 years ago. Although she did not go to culinary school she's been learning to cook ever since she was a little kid. From learning from her Filipino or Italian grandparents she's picked up a lot and it shows. You can book her for catering or just put in order with her if you want to try it out! You won't be disappointed..
Here are some recipes for you to try at home:
Cannabis Infused Ice Cream Recipe by D'Andre Balaoing:
The perfect accompaniment to your holiday apple pie or great when served alone, and topped with chocolate sauce or fruit compote.
This gelato recipe can be scaled with more or less THC, to your liking; but I prefer to keep it light at 5 grams, for everyone to enjoy. This recipe yields a creamy, rich vanilla flavor, but can be flavored with spices or other add-ins, if you'd like.
Infused Cream (Ingredients)
• 2 cups heavy cream
• 5 grams marijuana, ground
• 1 vanilla bean, scraped
Directions
1. Combine all ingredients in a medium saucepan, and simmer gently for one hour, do not boil.
2. Strain the mixture through a fine mesh strainer or cheesecloth, and chill.
Infused Ice Cream (Ingredients)
• 1 ½ cups infused cream
• 4 cups milk
• ¾ cup dry milk powder
• 1 cup sugar
• 3 large eggs
• 1 tsp kosher salt
• 1 tsp xanthan gum
Directions
1. In a medium saucepan combine; infused cream, milk, dry milk powder, and xanthan gum; bring to a simmer, and whisk to dissolve the milk powder and xanthan gum.
2. In a mixing bowl, whisk: eggs, sugar, and salt until frothy to form a base. The sugar may not completely dissolve— this is okay.
3. Carefully add ¾ cup of the hot infused mixture to the egg base, whisking to avoid cooking. This will temper the egg yolks, to thicken the base.
4. Once combined, pour everything back into the saucepan, and cook over low heat until a thick custard is formed, or mixture reaches 170 degrees.
5. Strain mixture through a fine mesh strainer, or blend on a low setting with a blender, chill until cold.
6. Churn the ice cream with an ice cream machine or let freeze in a resealable freezer bag in the freezer.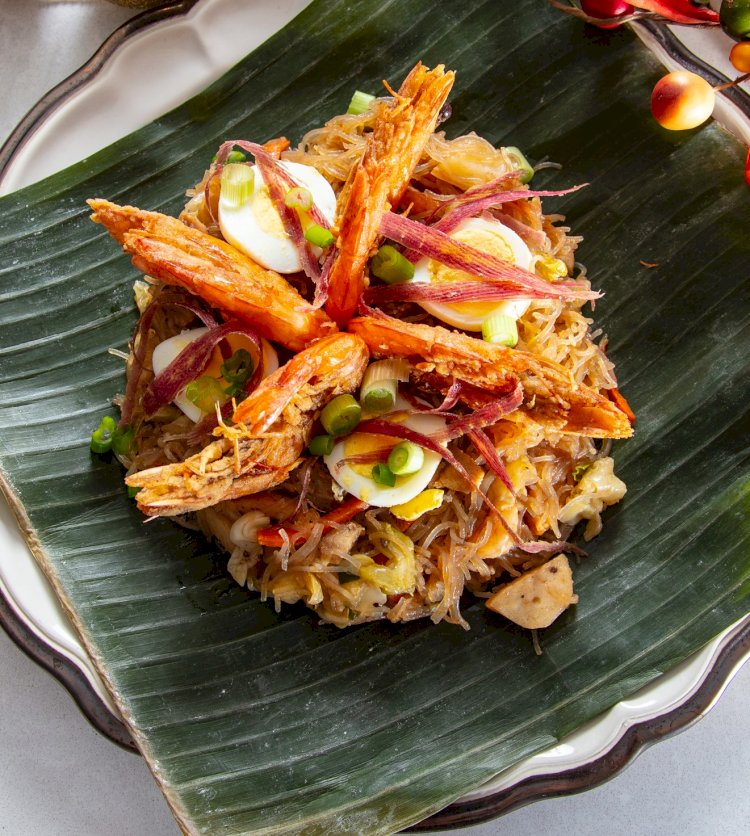 Pancit Recipe by Elyza aka The Blazed Chef
Ingredients:
1 (12 ounce) package dried rice noodle
1 teaspoon vegetable oil
1 onion finely diced
3 cloves minced garlic
2 cups shredded chicken breast
2 cups cabbage thinly sliced
4 carrots thinly sliced
1/4 cup soy sauce
2 lemons
Directions
1. Place the rice noodles in a large bowl, and cover with warm water. When soft, drain, and set aside.
2. Heat oil in a wok or large skillet over medium heat.
3. Sauté onion and garlic until soft . Stir in chicken cabbage, carrots and soy sauce. Cook until cabbage begins to soft en.
4. Toss in noodles, and cook until heated through, stirring constantly.
5. Transfer pancit to a serving dish and garnish with quartered lemons.
For more information on the chefs and all that they are doing, follow Chef Balaoing on Instagram: @dandre_to_go and Elyza at: @the_blazed_chef